Daily Agenda - 9H - Kane
Subscribe to posts
Monday, Sept. 18
Contract due

Glossaries

SSR
Tuesday, Sept. 19
Latin & Greek Roots, Quiz + five

Unit I: Of Mice & Men, by John Steinbeck

Class discussion: Social Responsibility

Quick Write

The Great Depression, brainstorm + discuss
Wednesday, Sept. 20
Unit I: Of Mice & Men

(continue) The Great Depression, brainstorm + discuss

Photo Essay + discussion
Thursday, Sept. 21
MAP testing
Friday, Sept. 22
(finish) MAP testing

Research: The American Dream, Then & Now. Historically, what was the American Dream? Synthesize how the American Dream changed in the last 85 years. (one paragraph)

Quick Write - Knowing what you know about the American Dream, share your own American Dream.
Reminder: Glossaries due Monday, bring an SSR
Monday, Sept. 11
Turn-in HW The value of reading Animal Farm (one paragraph)

Animal Farm Exam

Homework: What is the difference between Literary Elements and Literary Devices, give examples

Due tomorrow, written, followed by a discussion/quiz
Tuesday, Sept. 12
Turn-in HW: The difference between Literary Elements & Devices

Pretest (formal writing, lit elements/devices)

Latin & Greek Roots

Five new words every Monday, quiz on last weeks

First 5 words

In pairs, complete the five words HW using smartphones (you may work together, but not turn in the same words)
Wednesday, Sept. 13
Brainstorm familiar literary devices

Computer lab to start first Lit Device Glossary

10 Glossaries due Dec. 11th
Thursday, Sept. 14
Computer lab to work on first Glossary
Friday, Sept. 15
CWF - Creative Writing Friday

Bring SSR books Monday / first Glossary due

Homework: Contract, due Sunday by midnight
Tuesday, Sept. 5 (9th grader day, 20 min classes)
Intro to Honors 9

Tour room

ScappooseEnglish.com

Routine is set in stone, SSR, etc.

Monday - Glossaries, SSR

Tuesday - Latin/Greek Roots

Friday - CWF

On-going projects in this class -

Always bring SSR bks Monday

Literary Device Glossaries - hardest piece in this class

Latin & Greek Roots

CWF - Easiest piece in this class

Summer HW Animal Farm
Wednesday, Sept. 6 (60 min)
Socratic Seminar Qs Peer Review Work (Groups of two) - Slide
Leading Questions are open-ended questions that cannot be answered with a Yes or No. They are thoughtful questions and elicit thoughtful answers.
Are these open-ended questions?

Can they be quickly answered by a Google search?

Are they Level 2, 3, or 4 on the Depth of Knowledge graphic (next slide...)?

The answer to the above questions should be YES. If not, spend some time rectifying this.
Thursday, Sept. 7
(Return Animal Farm to library)

Go over the rules of a Socratic Seminar,

Respect, thoughtfulness, answer & ask one Q, no one-word answers

If your Q was asked, resort to a Q from your SS Group Work

Inner-circle/Outer-circle? 25 min each with 7min trans time OR 55min One-circle

Start Socratic Seminar
Friday, Sept. 8 (Assembly Schedule, 55 min classes)
Reminder: Animal Farm Exam Monday (bring a book in case you finish quickly)

Continue SS (outer circle)

Homework (one paragraph) The Value of Reading Animal Farm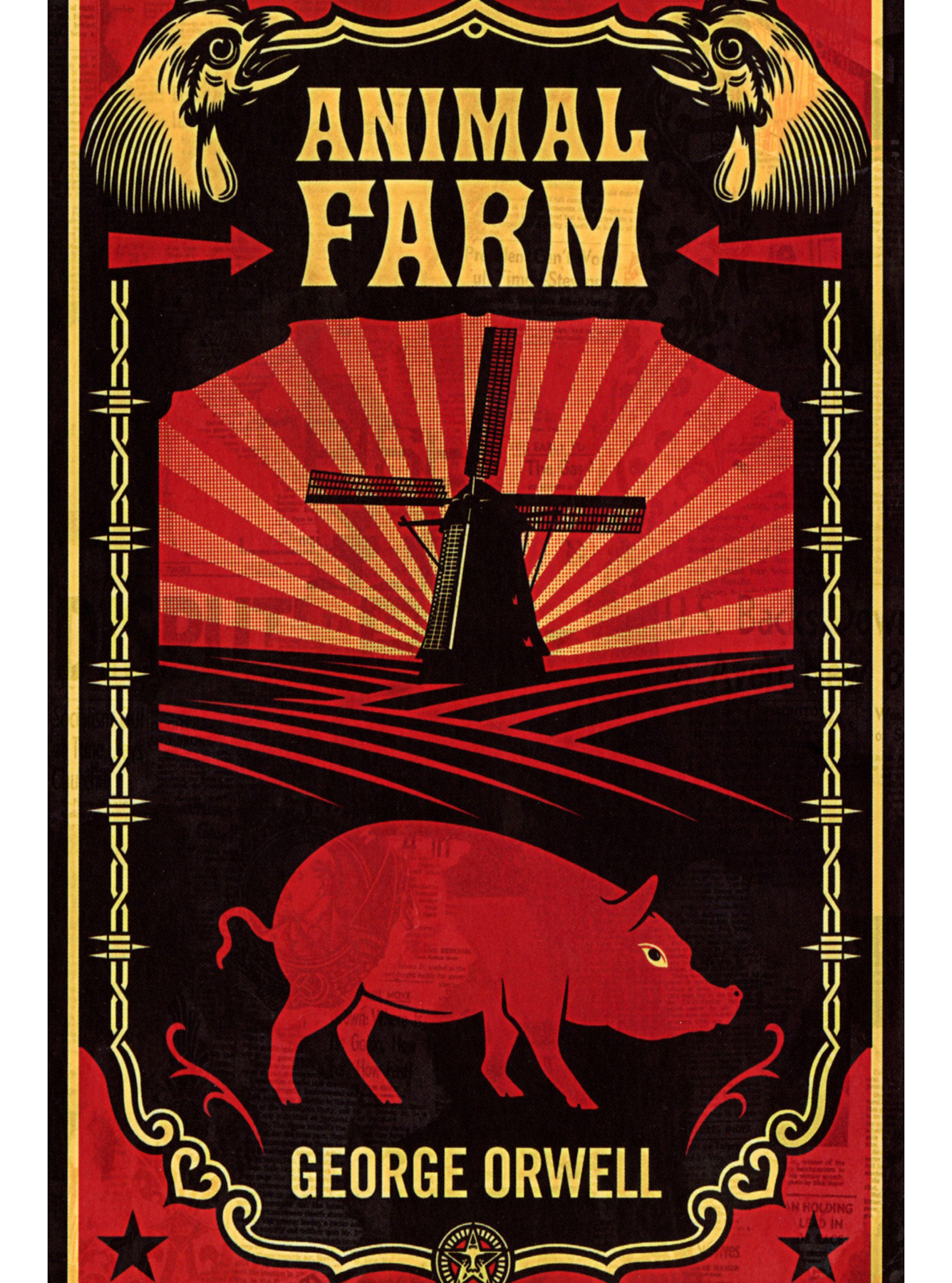 Congratulations! You have enrolled yourself in the first of many high school advanced placement Language Arts courses. Honors and AP courses are demanding, so be sure to keep up with the work involved. We use curriculum designed to prepare you for college, therefore, the pace and level of thought expected are set accordingly.
In order to keep your brain sharp, you will have summer homework. It is your responsibility to manage your time wisely. After reading Animal Farm, by George Orwell, choose one of the assignments below and have it completed by the first day of school.
Choose Your Assignment #1:  Read Animal Farm, by George Orwell
Complete the four page Literary Analysis Sheet,
The best piece of advice that we can give you about the summer homework is this: fill-out the Literary Analysis Sheet while you read the text. If you wait until after you have read the text, it will be extremely difficult.

These are your thoughts alone, do not use 'Memorable Quotes' from the many internet sites available, and do not turn-in work that closely resembles another student's' work, doing so will earn you a non-passing score.
Be prepared for an extensive exam on the novel,
Create two leading questions for a Socratic Seminar on the first day of class.
 Choose Your Assignment #2: Read Animal Farm, by George Orwell
Choose one of the three essay prompts (attached) and write a well-organized essay answering the prompt. Please familiarize yourself with the attached "How to Write a Winning Essay" and the rubric,

Be prepared for an extensive exam on the novel,

Create two leading questions for a Socratic Seminar on the first day of class.
I am available throughout the summer through email, jedge@scappoose.k12.or.us
I am looking forward to meeting you in the fall!
Mrs. Edge
Language Arts
Department Chair
Scappoose High School
jedge@scappoose.k12.or.us
Monday, May 8
Last opportunity: Glossaries

Fixed due Friday

SSR
Tuesday, May 9
Indi-Read #2 - EXAM

Start essay graphic organizer
Wednesday, May 10
Finish graphic organizer

Start rough draft, due Friday
Thursday, May 11
Work on rough draft, due tomorrow
Friday, May 12
Today, students will have TWO friends Peer Review their essay rough drafts. After each Peer Review, students will conference with each other. Then start the whole process over with a different friend. Final, typed essays due Monday.
Monday, May 1
Glossaries

SSR/Work Samples

Return rewritten essays
Tuesday, May 2
Movie day!

Use this time to catch up on class work
Wednesday, May 3
**Jterm registration, 45 min classes
Finish movie

Use this time to catch up on class work
Thursday, May 4
Story of an Hour, by Kate Chopin

Critical Thinking Questions
Friday, May 5
Continue Critical Thinking Questions

Socratic Seminar
Monday, April 10
Lit Device Glossary

Week Three :: Indi-Read #2

SSR
Tuesday, April 11
Latin & Greek Roots, Q + 5

Finish The Great Gatsby
Wednesday, April 12
Start Thematic Timeline

Examples

Handout, rubric

Due Thursday
Thursday, April 13
Continue Thematic Timeline

Due Thursday
Friday, April 14
No School - Grade Day
Monday, April 3
Indi-Read #1 :: Theme Essay due

Lit Device Glossary

Spring Break HW due

Week Two :: Indi-Read #2

SSR
Tuesday, April 4
Latin & Greek Roots, Q + 5

The Great Gatsby

Writing Prompt #8

Discuss
Wednesday, April 5
The Great Gatsby

Chapter 8

Chapter Events, ch. 8

Check for Understanding, ch 8
Thursday, April 6
The Great Gatsby

Writing Prompt #

Chapter

Chapter Events

Check for Understanding
Friday, April 7
Watch
Monday, March 13
Literary Device Glossaries due

SSR

(Indi-Read #1 exams Friday)
Tuesday, March 14
Latin & Greek Roots, 5 new words (quiz next Tuesday)

The Great Gatsby

Writing Prompt #5

Chapter 5

Chapter Events

Check for Understanding
Wednesday,  March 15
The Great Gatsby 2013 film
Thursday, March 16
(Indi-Read #1 last week, exams Friday)

The Great Gatsby

Writing Prompt #6

Chapter 6

Chapter Events

Check for Understanding
Friday, March 17
Indi-Read #1 Exam

Reminders:

Indi-Read #1 Essays due Friday 3/24

Essay Workshop Tuesday (pre-work due Tuesday)

One-on-one meetings with counselors next Wednesday

Indi-Read #2: Starts 3/24
Monday, March 6 - Jterm Survey day
Continue Worksample
Tuesday, March 7
Finish Worksample
Wednesday,  March 8 - Trades Day
TRADES DAY - 8:30-11:40am
Classes start after lunch

Literary Device Glossaries due

The Great Gatsby
Finish Chapter 4

Chapter Events

Check for Understanding
Thursday, March 9
Latin & Greek Roots, Q + 5

SSR (Indi-Read #1, week five)
Friday, March 10
The Great Gatsby
Writing Prompt #

Chapter 5

Chapter Events

Check for Understanding